Nothing says autumn more than scrunching through a pile of leaves and, as England's most wooded county, Surrey boasts some of the best autumn walks around.
Whether you head for the Surrey Hills, for a stroll by a canal, or to a National Trust mansion, you'll find an autumn walk to suit you. Here is our guide to some of Surrey's most popular autumn attractions to help you experience the best of this beautiful British season.
Winkworth Arboretum
We are very lucky to have Winkworth NT within a 15 minute drive of the glamping field. Autumn is regarded as the best time to visit with the colours from the Japanese, American and Norwegian maples outstanding. Whether you follow the woodland trails, take the board walks across wetlands or the path around the lake, there is plenty to amuse little explorers too. You must pre-book your visit and further information can be found here

Painshill
Painshill is a beautiful 18th century landscape garden that makes a great out day for all ages. Winding paths take you on a walk around a work of art, with a series of stunning views and vistas. Stroll around the Serpentine Lake, wander through woodland and discover the dramatically placed garden buildings. You must book in advance. It's a slightly further drive from the field and will take around 40 minutes. Further information can be found  here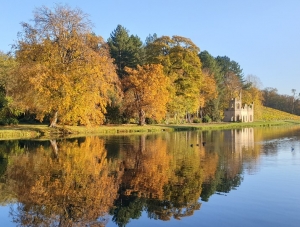 RHS Garden Wisely  
Another fantastic place to see Autumn colour. An RHS Wisley spokesman said: "There are many seasonal highlights for visitors to discover in autumn at RHS Garden Wisley "Must-sees include the eye-catching Nyssa sylvatica 'Wisley Bonfire' and Liquidambar styraciflua 'Wisley King' as the foliage changes from green to vibrant ambers and reds. The Equinox Borders are another colourful delight, with autumn flowering Aster, Kniphofia, and Euonymus filling the display." There's also lots going on for the children here too. Find out more here
Hindhead Commons and the Devil's Punch Bowl

Part of the Surrey Hills Area of Outstanding Natural Beauty (AONB), the Devil's Punch Bowl is a riot of rich, rustic colours in the autumn. The area's Gibbet Hill is the second-highest point in Surrey and so provides outstanding views of the beautiful landscape. With numerous designated walking routes crossing through the area, there are plenty of ways to experience this stunning National Trust setting. Post-walk refresher: After marvelling at the stunning surroundings, the National Trust's on-site eatery, The Devil's Punchbowl Café, is conveniently close for providing a warming cup of tea or, with hot lunches also available, something a little heartier. To plan your visit please visit https://www.nationaltrust.org.uk/hindhead-commons-and-the-devils-punch-bowl It's only a 30 minute drive away too!
Leith Hill NT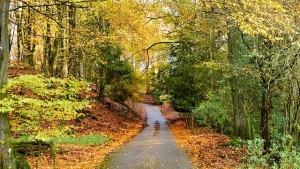 Rising seamlessly out of the enchanting landscape that surrounds it, Leith Hill Tower offers spectacular views from its top that extend far into the distance. As the highest point in south-east England, London can be spotted in one direction and the English Channel in the other! Also part of the Surrey Hills AONB, the hill is nestled among the stunning countryside and the autumn changes only make the location more breathtaking. https://www.nationaltrust.org.uk/leith-hill
Sidney Wood 
If you don't fancy venturing too far from the glamping field then we are very lucky to have Sidney Wood next to the site. Sidney Wood is owned by the Forestry Commission and allows public access through a system of permits for recreation activities including walking, dog walking, cycling and horse riding. There is a fantastic walking route available here https://www.surreycc.gov.uk/__data/assets/pdf_file/0010/167644/ES-Sidney-Wood-and-the-Lost-Canal.pdf  A print out of the walking route can be found onsite and we can advise guests where to join the route from the glamping site.