We've picked our top 3 local cafe recommendations which you can find more details on below. All are within a 20 drive of the glamping field.
The Milk Churn
The Brickworks, Kiln House, 4 Lynwick St, Rudgwick, Horsham RH12 3DH (11 minutes' drive from the field.)
https://www.bookhamharrison.co.uk/the-milk-churn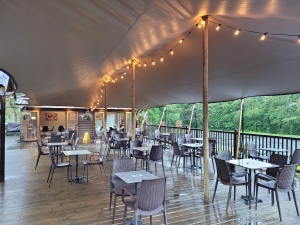 The Milk Churn is a very popular café situated on a cheese producing dairy farm. It sits next to the Downs Link (a disused railway line which is now an established footpath and cycle link between Guildford and Shoreham.) As you would expect from a cheese producing dairy farm, cheese on toast made with their famous Sussex Charmer is a speciality at the Milk Churn.
Open 7 days a week.
OPENING TIMES – MON – FRI – 8.30AM TO 4.00PM SAT & SUN 10.00AM TO 4.00PM
---
Hilltop Kitchen
Coombe Farm House, Alldens Ln, Godalming GU8 4AP (16 minutes drive from the field.)
OPENING TIMES – THURSDAY-SUNDAY- 09.00-17.00
https://www.hilltop-kitchen.co.uk/
The Hilltop Café is definitely a lunch spot with a view, overlooking the picturesque Surrey Hills. It's a highly rated café offering a range of fresh cooked food from pastries and light bites to a simple and seasonal lunch menu. Booking is advised.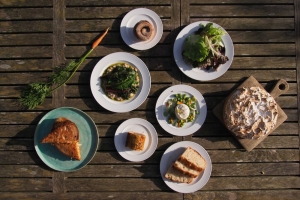 ---
Maddings Café, Whipley Manor Farm
Whipley Manor Farm, North Barn, Palmers Cross GU5 0LL (11-minute drive from the field.)
OPENING TIMES- TUE, WED, THU: 08:30–18:00 | FRI, SAT: 08:30–19:00 | SUN: 09:00–16:00
Situated on the Whipley Manor Farm estate the Maddings Cafe menu is an all-day farm to fork affair. Expect plenty of fresh bakes, breads, brunch dishes for all tastes, some game, daily specials, free-range rotisserie chicken. Whilst visiting the farm estate you can also venture over to Taurus wines and Dunnocks Farm shop + Deli for a mooch (also located on the old farmyard.)