We are very fortunate to have a fishing lake on the estate, just a short walk from the glamping field. Guests are very welcome to fish on it during their stay. You must have your own rods and landing net. It's an excellent lake to fish on with children as you are almost certainly guaranteed to catch something!
Stocking 
There are several species to be found in Springbok Fishery, including common, leather and ghost carp with the top weight recorded at 25lb. The usual weight of a single fish caught ranges from 4lb to 10lb. In addition to the carp there are crucians up to 1.5lb, perch to 4lb and a good stamp of roach and rudd. There are a few tench that being timid can be a challenge to catch, but when you do it is well worth the wait. The fish are in very good condition as the waters are fed with natural underground springs.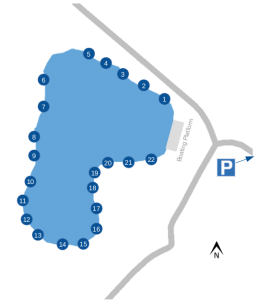 Swims
The fishery covers 1 acre and has 22 fishing platforms.
Swims 1 – 5 are located close to the estate road and provide easy access to those with limited mobility, these swims are double sized allowing those with a disability more space or the opportunity to have someone fish alongside them for support.
Swims 6 – 10 offer more of a challenge with reed beds and the island offering any fish an opportunity of escape. These swims are not for the faint hearted and are ideal for the angler with more experience.
Swims 11 – 17 provide a different kind of challenge as some times the fishing is red hot and other times not so. The water tends to be shallower in this bay and hooking into a big carp can be interesting as they shoot across the water towards the island and reeds for cover.
Swims 19 – 22 give an angler plenty of options from casting to the island to fishing close in, and you will not be disappointed, as carp tend to patrol these areas frequently.
In general all swims offer a challenge, and whilst some are happy with a big bag of carp the silver fish really can bring a lot of satisfaction with a decent stamp of rudd, roach, crucian and perch. There are a few elusive tench that if caught are a bonus as they tend to keep themselves to themselves. This is an ideal water for young people to fish and learn new tactics, we ask those under the age of 16 years are accompanied by a responsible person.
On each Friday 9.00am to 12.00pm swims 1, 2, 3, 20, 21 and 22 are not to be fished from to allow the Springbok Model Boat Club clear access for sailing.
Fishing Rules
Only barbless hooks to be used. (Maximum size 10)

Landing net is required.
No Keep Nets.
No Floating Baits
No night fishing
No Fires or BBQ's
No noisy bite detectors or radios.
In an emergency contact the office on 01403 752555 (office hours) or 999.
How to book
There is no need to book in advance. Bailiffs visit the fishery on a regular basis and will ask to see either your day ticket or permit. If you do not have one you may purchase a day ticket from the balliff when they come round.
Day Tickets: Adults £10.00 for 1 rod, second rod £5.00
Concessions (under 16 & 65 Years +) £6 per day, second rod £3.