Present in most villages the local watering hole is more than just a place to have a cold pint, with community spirit, hearty food and a place for entertainment. I think most of our guests would agree a trip to the local pub is a quintessential part of their Glamping Holiday experience. Below you'll find a list of pubs in the area, we're lucky to be surrounded by several close by.  If you're looking to indulge in a tasty pub meal and a pint of delicious local ale, before retreating back to your bell tent for an evening in front of the camp fire then you've come to the right place!
Top of our list and a firm favourite with our guests is the charming Sir Roger Tichborne Pub, a pleasant country walk away (route provided on site) or a 5 minute drive. It's a wonderful place in the summer months for drinks and lunch/dinner alfresco with its garden offering stunning views over the Surrey/Sussex countryside. For an up to date menu please visit http://www.thetichborne.co.uk/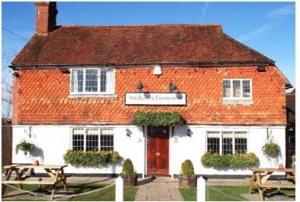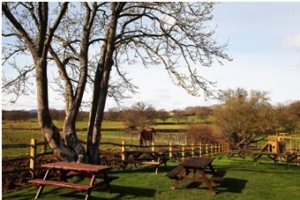 The Thee Compasses is a very short walk away from the site, albeit less scenic. Located just down the road the pub offers reasonable priced food, plus lots of guests have commented on the friendly locals! http://www.thethreecompassesalfold.co.uk/index
The Alfold Barn offers traditional British food with fish playing a major part of their menu. It's also famous for its very generous portion sizes! The pub is just a 5 minute drive from the site. http://www.alfoldbarn.co.uk/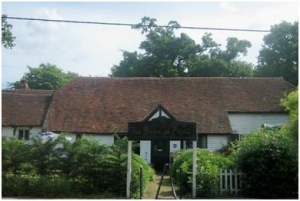 If you fancy spending your days relaxing in the glamping field then you can always order food. Our popular home-made meals are delivered up to the site at a time convenient to you. There are a wide range of options available including desserts and an afternoon tea hamper, take a look here https://glampingholiday.co.uk/catering-menu/ For large groups we've introduced a new menu this season. Please email [email protected] for a copy.
Love